We don't always have time on our side for longer travels, but weekend trips are definitely more feasible. Constantly looking out for such options, we came across these guys from Xcape Shanghai who organises weekly trips to the bamboo forest of Anji, where the film Crouching Tiger, Hidden Dragon was shot.
The full itinerary is up on their page (XcapeShanghai.com). They basically pick you up from a location in Shanghai on Friday evening, and ensure you're back in the city by Sunday night.
D and I initially hoped some friends of ours would be able to join us on this trip but unfortunately summer is always a busy time in Shanghai – people are travelling or have guests to host. We decided to be the guinea pigs and give the trip a shot on our own.
There were about 18 of us, including the two guides. Everyone was mingling around, and the two guides (Amj & Jacky) were really down to earth. It felt like a bunch of guys bringing their friends on a trip, and most people do end up being friends with the two of them.
We arrived on Friday night after a two and half hours drive. Everything was pretty dark by then, so we had to wait till morning to actually see what surrounds us. We had a chalet right at the end of the compound, next to the river. The chalet was simple but clean – that's all we really cared for. Even the creepy crawlies were pretty much out of sight aside from a giant spider we saw in the toilet. But they greet you right as you exit from your chalet. It's nature, after all.
On Saturday morning, the weather was quite cool and cloudy, which was perfect as we were supposed to have our trek into the forest that day. The trek lasted slightly over 2 hours in total, and definitely was a good and strenuous one. Some of the trails were really narrow and all were pretty steep. We were holding on to the bamboo trunks for help many times through the trail and only then did I realise exactly how sturdy and strong these slim bamboo trunks are.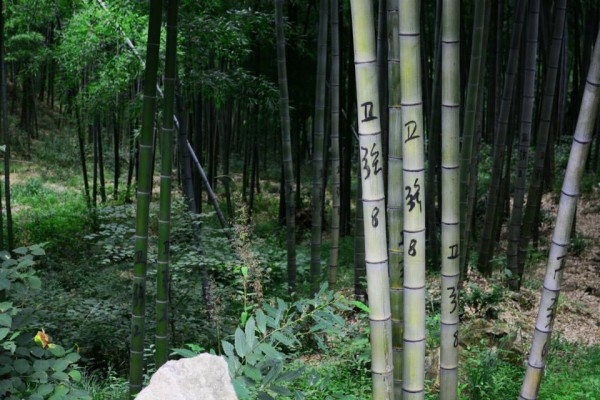 Passing the waterfall and river, the rocks became increasingly slippery. I slipped at one point and I believe that might be when I got that leech attaching itself to me. I didn't notice anything until a twig got in my shoe and I had to get it out. Then I noticed something wriggling by the side of my foot. Amj, the guide managed to flick it off my foot without much difficulty.
It was completely painless, however. One of the girls on our trek had about 3 or more leeches that sneaked into her shoes. Because leeches inject anti-coagulants into the host's blood, we continued to bleed for a while after that, which was pretty yuck.
We finally finished the trek, and it definitely felt different seeing civilisation again after just green trees all around you for the few hours before. We headed back to the chalet compound for local lunch in the main building, which was surprisingly fantastic. I say surprising because we've been to too many restaurants that provided subpar food only because the guests had no other choice (not many options nearby).
We were happy to say it was not the same case here. Most of the dishes were made with fresh ingredients in their own backyard – the locals grow their own produce in the fertile soils nearby. You can also see little tea plantations on the slopes of the mountain. They grow and harvest the Anji White Tea (Anji Baicha 安吉白茶) there.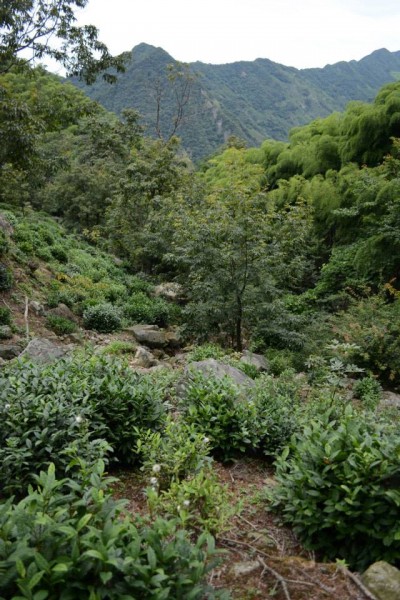 Post lunch, we were given some free time to rest before the BBQ dinner by the river. We could explore the area, swim in the pool, or simply take a nap in the chalet. Dinner was around 7pm, we were sat in a little shelter by the river, as the two guides prepared the BBQ. Steak, fries, chicken wings, sausages, local vegetables (corn, yam, sweet potatoes) were some of the things on the menu. Music was turned on, alcohol was served, games played, conversations exchanged, and people were left to just enjoy the evening any way they wanted.
The next morning, we decided to skip breakfast (mix of cold cuts, cheeses, toast, boiled egg) and slept in. It was our anniversary little staycation, and we decided to take that final morning absolutely slow. Some of the other guests were by the river swimming, heading to the nearby town, or lounging on the pool floats. We had a walk around the chalet for a bit, only to retreat back to the room to relax and read on our kindles.
Before we knew it, it was time for lunch once more, just a great as the previous day's. And it was finally time to head back to Shanghai on the bus.