Majority of the third day was spent on the roads. I woke up at five in the morning to catch the sunrise but the sky was still too cloudy from the storm the night before. I can imagine it would have been quite spectacular on a good morning.
We started our day with a light local breakfast at the grasslands after the interesting night. Firecrackers were blown off by other residents in the night, scaring off spirits of their yurts maybe. Can't escape them fireworks anywhere in China. I don't think we slept longer than 3 hours that day but we were really excited to start off once more. The thought of a more hospitable accommodation (with a shower that doesn't require us fighting angry bees) awaiting us, was all the fuel we needed to get moving.
Our local driver who had to sleep in worse conditions, greeted us with a face that said "Get me out of here". Or maybe I just imagined it. But we were all excited to see what else awaited us in this region. Aside from the lack of sleep, everything had been amazing so far. And it clearly continued to get better.
We drove close to four hours to get to Wudang Lamasery. It was something that was not in our original itinerary but which I included at the end despite it being a little off the track from the rest of the route. I got swept away by the thought of how old it was, how it was one of the only fully Tibetan temples in Inner Mongolia, how it's in a gully surrounded by mountains with willow trees. For some reason, the lamasery wasn't even listed in our driver's GPS but thankfully we located it on my phone's google map and found our way back on track.
Along the way and three hours into our drive, we came across a part of the Great Wall of China (built during the Zhao Dynasty). It was clearly a Great Wall no more. I started referring to it as the Great Bump of China, much to the amusement of D.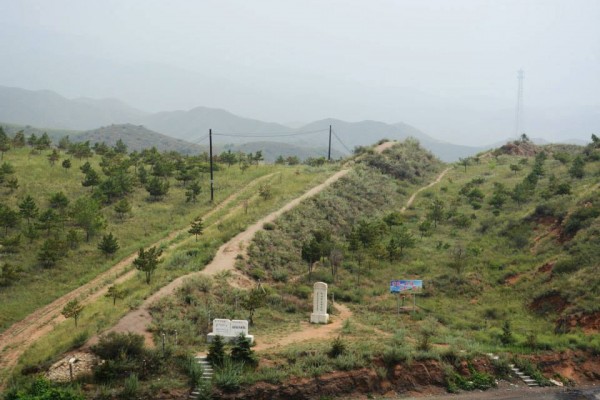 The roads got bumpier the further we went up the mountain. There were holes everywhere, so we had intermittent naps every 5 mins. Funny how I still feel like a child going "woohoo" every time the car hits over another bump. I may be excited but a part of me was feeling guilt. Guilt for putting D through this just because I wanted so badly to see this temple compound. It better be worth it!
And I'm glad to say it really was. We realised we were very near when willow trees started appearing all around the initially-bare mountains, as though greeting travelers and pilgrims there. Quite a curious sight. Despite the constant restoration works going on (like any old majestic site is – think gothic structures in Europe), the place itself was beautiful. The area was far bigger than I expected. Many many little steps led us to the residence of the monks, and little temples that make up the entire complex.
Nobody is spared from commercialism. That thought was nailed inside my mind as I see a young monk sitting outside a temple, fiddling with his iPhone.
After the strenuous hike around the mountains, we headed back into the city for ridiculously cheap great local food and most importantly, the clean shower we've all been waiting for.