Coming from small island city Singapore, moving to a massive country like China was quite an amazing experience. Shanghai's my new home city for now. When you mention Shanghai to an outsider though, they often think of the Pudong skyline, very much reminding them of the skyline in Singapore. What's the difference?
Well, actually a lot. Neither is better than the other, only different. For one, the stark difference is language. Being racially diverse, English is the preferred and main language of Singapore – alike majority of the West. This makes Singapore the perfect gateway to the East or West, depending on which side you're raised on.
Additionally, Singaporeans' way of life have drastically changed, with Western cultures more prominent than the Eastern. Still a very exciting city – very different from the rest, and having English as the language of administration, communication is certainly not a big issue for most foreigners wishing to visit or make it their new home. Shanghai, though increasingly international, for now, still has a huge language barrier for those who do not speak nor read the language, causing it to be just that bit more challenging to completely assimilate with the locals.

It's always bustling in Shanghai. A city with a population of over 23 million people, that's expected. And the younger locals want in on the action. Many have recently overtaken various spots in Shanghai, dedicating them to their little creative ventures – boutique cafes, pubs, restaurants. Very vibrant, very exciting.
Despite all the rapid modernisation and ever-changing landscape, the current Shanghai still presents to me what I was familiar with, growing up in Singapore, which is not exactly very obvious back home anymore. For one, I absolutely love the old streets and housing compounds you chance upon in every corner. Think "kampong mentality" in old Singapore, where jolly old ladies sit together right on their doorsteps, plucking off the ends of taugehs (bean sprouts), and having a chat about the world passing them by.

Or coming across groups of elders doing taiqi in parks (or any space wide enough, really), line dancing in the evenings, or even belting out old classics via a portable karaoke set. Try cheering some of them on while they sing – you'll make their day.
When I first moved over, I was admittedly a little lost. I was unsure of where to find the simplest items. Where is that stationery megastore I can easily go to, to find the things to equip my study room with? My bath was choked, where can I find a hardware store to buy a toilet pump? But I slowly found everything was available, for cheap, right in my "backyard". Little hidden stores, literally holes in the walls, run by old couples, selling everything I needed. The Shanghai "shophouses". Backyards are opened up as little cafes, manicure places, bubble tea stores, whatever you can think of.
Lastly, as crass as they may sound when they speak, which a lot of people mistake as rudeness or unwelcoming, I've discovered Shanghainese people to be quite the contrary. Just being foreign and trying to speak their language, puts smiles on their faces. Quite often, the older Shanghainese are the ones who'd curiously drop in an English word here and there with a "Hello!" "Goodbye!" "How are you?". Replying to them, letting them know they're understood makes their whole week, possibly. Our laundryman is a local guy who practically lives in his shop, and he's always excited to have his clients returning to his home-store, always surprised and amazed at more and more foreigners speaking his language.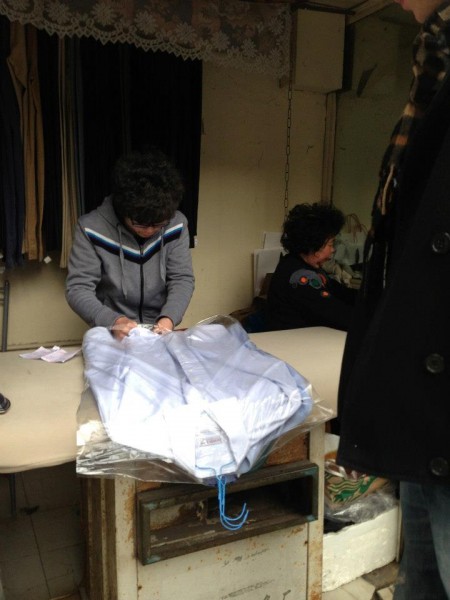 Sadly, at the rate they're pulling down these old housing compounds, there's always a fair possibility that Shanghai might also end up developing to a point where they'd end up losing the very things we love about it in the first place. An inevitable result of economic progress? Perhaps, perhaps.