On our second and final day in Hangzhou, we hired a taxi for 3 hours to explore some of the mountains west to our hotel, for a bit. On map, it looked fairly near to walk from our hotel, but in true fact, they were not. They are mountains, after all. Also, fearing we might not have enough hours before having to make our way back to the train station, the taxi seemed our best bet. We got a nice driver who drove a "London Taxi" styled cab who charged around 60 yuan per hour (quite worth the money especially when splitting it per passenger). The drive up took us barely 15 minutes, whereas walking would have taken over an hour.
We started with the Wulin Mountain (武林山). We drove up to the entrance of Feilai Peak (飞来峰), which contains several temple complexes, the most famous attractions being Lingyin Temple (灵隐寺) and the Feilai Grottoes. It costs 45 yuan to enter the main compound, not inclusive of entry to the temples.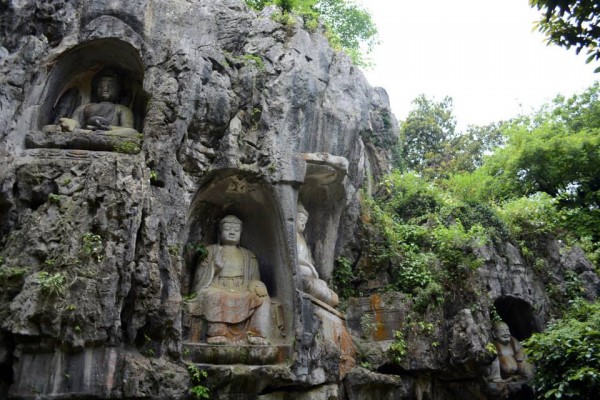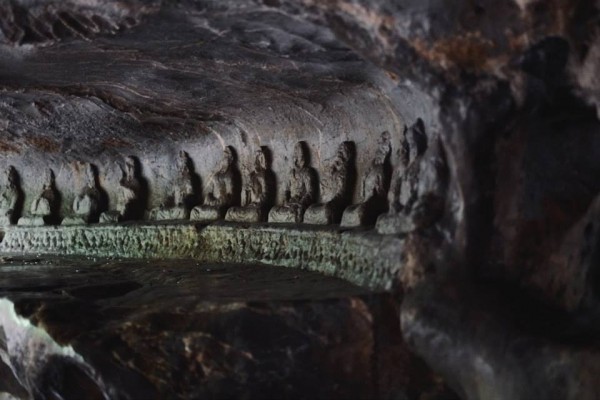 At the Feilai Grottoes, we saw various stone carvings in the caves and their entrances, representing the various Buddhas, and the pilgrims of Journey to the West.
We also entered the Lingyin Temple, and had to pay an additional 30 yuan. Lingyin Temple is said to be one of the largest and most expensive Buddhist temples in China, and you might understand why when you're there. The complex is pretty massive broken down into smaller halls, and the statues of Buddhas very elaborate (some even coated with immense amounts of gold), and have ceilings painted with gold.

There were also two or three other slightly smaller temples nearby which required a long trek up. As we were short of time, we decided to push that to the next visit, and headed back to meet our driver to head to Longjingcun(龙井村).
Longjingcun (龙井村) is a tea plantation village, which grows the well-known and quite expensive Dragonwell Tea (Longjingcha 龙井茶).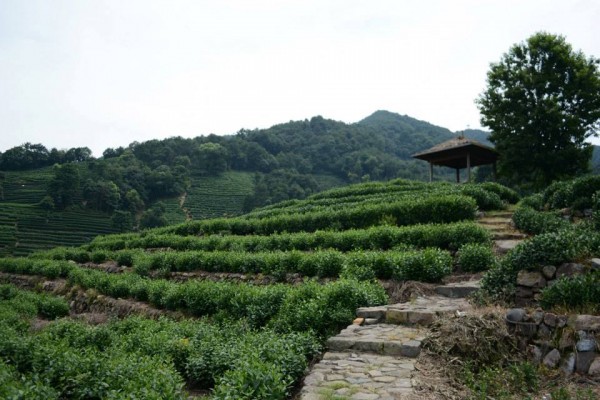 We actually skipped the tourist hoard at Inquiring About Tea at Dragon Well (龙井问茶), and headed straight for the village. There was nobody around aside from the villagers themselves, and we managed to have a walk up the tea plantations behind these homes. We took a rest in a little hut up the hill, watched a few locals picking tea leaves, and soaked up the above 32ºC (89ºF) weather.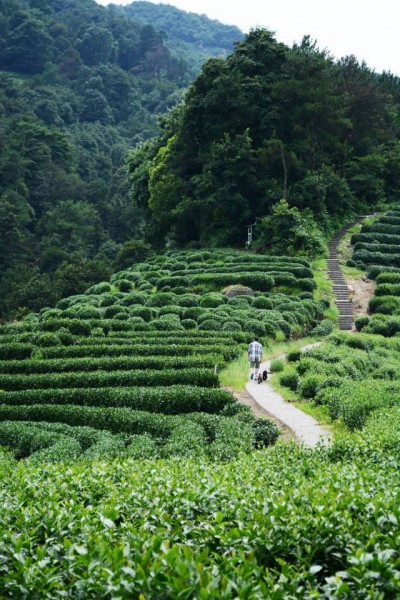 Some locals offer the service of showing how the Longjing tea should be prepared and served, in their own homes, for a mere 10 yuan. But unfortunately, in that extreme heat, the last thing on our minds was heating our insides with hot tea. We had to pass, and headed back to the car. We finally journeyed back to our hotel for a last swim in the luxurious Four Seasons Hangzhou, and manage to freshen up just in time for our train ride back to Shanghai.