The volcanic island Jeju-do is one of the nine provinces of South Korea, and a famous tourist destination for visitors from all over the region, and UNESCO World Heritage Site for its volcanic origin and lava tubes.
Getting there
Getting there from Shanghai is pretty easy. By plane it takes just a little bit over one hour. We took Spring Airlines – the Chinese budget airline – as the rates were the most affordable.
Don't expect too much, though. Spring Airlines takes budget quite serious, i.e. there are a lot of restrictions on luggage (forget taking a normal cabin size hand luggage into the cabin, you will have to check it in if it is larger than 40x30x20 cm), and not a lot "amenities" during the flight.
Unfortunately our flight was delayed (both leaving and return flight), which seems to be quite common with this airline. Alternatively you can take other airlines like Juneyao, or even fly to Busan in South Korea and take the ferry from there.
Arrival
After arrival (and pretty fast immigration) at Jeju International Airport, we took the Airport Bus to our hotel. The Airport Bus (bus line 600) is a very easy and convenient way to get to the hotels. It runs every 20-30 minutes and has various stops at different hotels.
You can get tickets directly at the airport arrival hall and the bus stop is just in front of the exit.
Our hotel located at the 6th stop of the bus route and took about one hour drive time. Price per person for the bus was just about 9,000 Won. Definitely recommended.
Hotel
Our hotel, the Shilla Jeju was a rather upscale place, with good facilities and rooms. It is located on a cliff overlooking the sea, and you have access to a kind of private beach with beach house. Be aware that you have to go down a quite long path and stairs to get to the beach house. Alternatively you can use the indoor and outdoor pool and various other facilities, such as the gym or sauna.
Everything was well maintained and the staff attentive, friendly and very helpful. The only downside in our opinion is that the food seems to be a bit over proportionally expensive, so we decided to take the opportunity to head out to other restaurants for our dinners. If you are interested in a more detailed hotel review you can check out our friend's post on tripadvisor.
A special mention in this regards goes to the Concierge Desk of the Shilla. These girls were great and had some excellent restaurant recommendations for us. They even organised free pick-up and return service with the restaurant, and we were able to enjoy a very nice Korean Barbecue with meat from the famous Jeju Black Pig.
Daytrip
We decided to organize our own sightseeing day trip instead of using a tour provider or recommendation from the hotel. During our research we contacted a couple of local drivers, and finally settled with Mr Jin Ho Cook (contact details at the end of this blog post). He offered to drive us (4 person) in his seven-seater mini bus for the daily rate (9 am to 5 pm) of 150,000 Won (~ 150 USD / 110 EUR), fuel included. Mr Cook was a great driver, helped us with the final touches for the itinerary, and took great care of us during the whole day.  In addition his English is very good (which is not matter of course in Jeju), so we had no issues with communication throughout the day. Highly recommended!
Our tour led us to the North-East part of the Island:
Manjanggul oreum / cave (만장굴)
Must-see on Jeju. One of the longest lava tubes / tunnels in the world.
Seongsan Ilchulbong mountain (성산일출봉)
Also called the Sunrise Peak. A beautiful bowl-like crater / sea-cliff. You can hike all the way up on a couple of hundred steps. Worth the hike, as you get a very nice view over the area. On your way down you can watch the Haenyo female divers by coast (해녀) doing their performance. Those divers can hold their breath for several minutes and dive in the shallow waters to catch fish and seafood.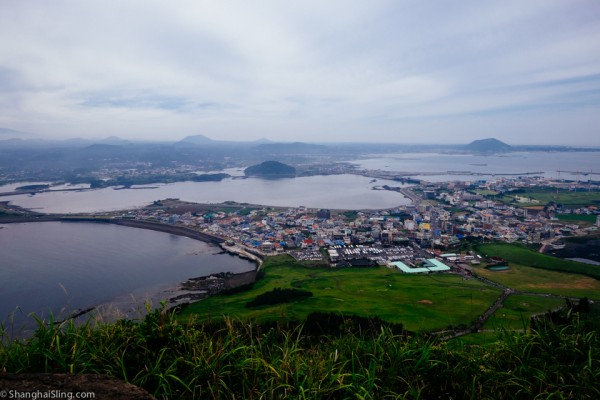 Seopjikoji (섭지코지)
Very beautiful coast scenery, including a white light-tower. You feel like in the middle of a Korean TV / movie drama scene.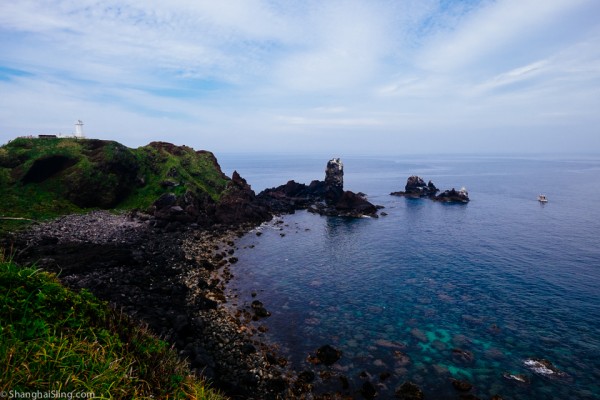 Lunch Break: Abalone Seafood Stew 🙂
Yummie!
Seongeup Folk Village (성읍민속마을)
Along the way to the waterfalls from Seopjikoji we stopped by the old village of Seongeup. It was an interesting walk, and you get to enter some vacant homes and see where the black pigs were raised (not so fun fact: black pigs in the old days were fed their owners own waste). There are still some locals living there, but most houses are left vacant or used by little businesses selling produce to tourists. As we were using a personal driver we were able to escape all the tourist traps and just enjoy the true beauty of the village. We didn't eat there, but apparently there are some eateries that offer black pig BBQ.
Waterfalls
On our way back we stopped by one of the waterfalls on the south coast.
All in all a very pleasant weekend trip for us in Jeju. We didn't include pictures from the beach in this post, but of course we had some relaxing time here as well.
We will be back!