On the second morning of our trip, we were picked up by our tuk tuk driver at around 5am. It's been the earliest I've been up at in awhile. That itself was pretty refreshing – experiencing the early morning drive to the temples in pitch darkness. The roads had no lights, and vehicles of all sorts only had their own lights to depend on. It was a pretty chilly morning for Cambodia, and the fresh air was inviting.
Angkor Wat
We arrived at the Angkor Wat entrance at about 5.30 or so, which gave us quite some time to make the walk into the temple and find a place to settle. We actually knew we weren't going to see a proper sunrise that day (It was raining in the night and the clouds were still overcast by morning). But no matter, seeing the temple so early was an experience just as well.
I enjoyed being the first few inside the Angkor Wat (which can get pretty overcrowded by midday), and the tuktuk ride into the compound in pitch darkness.
We also took away some observations which some of you might find handy to know before your own Sunrise at Angkor Wat experience.
Observations:
The sun rises behind Angkor Wat on the eastern side. Leading to the temple is a long path. For photos, you can either head to the left or right viewing stations of this path. LOTS of people, prefer to crowd on the left side, as they believe the bigger pond serves as a better foreground for the temple and the composition is better. This is always subjective, of course.
If you do not wish to fight for a space among hundreds of people, try heading straight to the right side. It has a little lotus pond as well, which, honestly is just as beautiful. You almost have a monopoly of space on this side.

The amount of people crowding on the left side.

Once the sun has risen, it's time to move on (You can always come back later for the "normal" daylight Angkor Wat photos when the sunrise crowd has disappeared).
You'll notice that almost all the hundred or so people will still linger around the ponds much after the sun has risen, so take this opportunity to be the first few to enter the Angkor Wat. You'll never see the temple this empty, and the experience walking around inside ON YOUR OWN is absolutely fantastic. (Worth getting up so early for, even without a sunrise).

You have to make a move before THIS group of people start crowding the temple along with you.
Bantaey Srey
After the early start at Angkor Wat, we made a quick trip back to our amazing hotel Shinta Mani, for a great early breakfast and a short rest, before tuktuk-ing off the maps to a temple far far away… Bantaey Srey. Of all the more famous temples, Bantaey Srey is still mostly untouched and unrestored so it's quite a lovely thing to see. It is much smaller than Angkor Wat or Bayon, but it still emits a very strong presence.
As we passed by all the smaller temples,  I realise my gut was right all along – I knew I'd love the smaller temples more. They're just so old looking…and untouched, and falling in disrepair. :/ Bantaey Srey was stunning – in all its muddy red glory.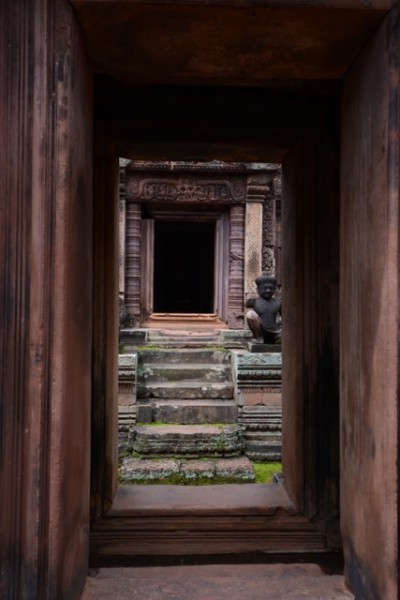 Due to its location being much further off, the number of tourists that visit is also far lesser. D prefers a quiet temple completely lost in the jungles, and this was the closest we got to that… Though not close enough. Beng Melea sounds a better fit. But that's another temple off the grid that we'll make time for, next time.