Quite awhile back, a friend was visiting us in Shanghai, and as usual, it's always the perfect opportunity to explore a place we've not been to. Zhujiajiao is a watertown not too far off downtown Shanghai. It's not exactly reachable by the metro, but it's about 45 mins on the road.
We picked April 27th as the date to check this place out and what a great choice it turned out to be. It was a Saturday, and we'd expected it to be filled with tourists, as any place in China that's been listed somewhere, usually is. Contrary to our expectations, the place was amazingly quiet. No tour guides blasting us with their portable speakers, no shoving and pushing… pure silence. Well, as silent as a touristy place could be, anyway. There were still people trying to get us to don old royal costumes for photos. Um, nahhhh….
So, we figured the upcoming May Day on Wednesday had something to do with it. In China, when there's a public holiday in the middle of the week or so, companies often extend their break, but will make up for it on some other weekend. So instead of just getting 1 day's rest, the locals get to have 3 days rest starting Monday to Wednesday. And they'd have to make up for it the Saturday and Sunday before. Confusing? Very much so. But that's a different topic altogether. The most important thing was that it worked out for us.
Another thing that amazed me there was how cheap all the souvenirs, drinks, and food were in the area for a tourist spot. The prices would still be uncomparable to the prices you might get out of Shanghai, but imagining the throngs of tourists they get every other normal weekend, it's tough to imagine they wouldn't jack up the prices even more. But again, I have no complaints.
After walking around the little lanes and the little shops, we decided to hop on a boat. And we had one, all to ourselves. 60 yuan per boat, and a leisure ride along the canals and river. It was the most relaxing and tranquil boat ride I've had in awhile. What a difference a little bit of quiet makes.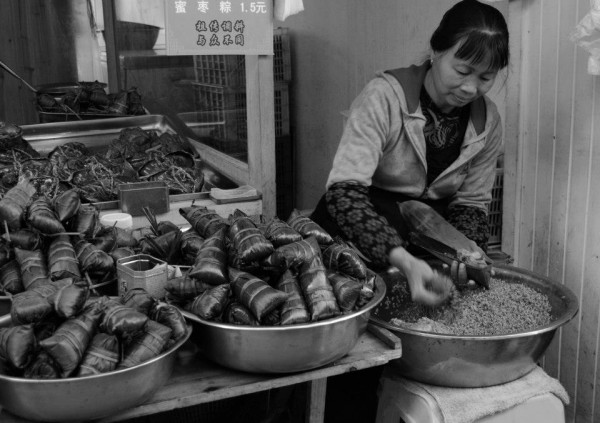 Later, we found ourselves resting our scorched skins in a loungey cafe located in an old house. Our last stop was on a bridge. With nobody around, we made that our snacking spot, munching on our zongzi, as the sun eases off and sets into the horizon.
It almost made me sad to think I'll never experience something like that in Zhujiajiao again.  But, lucky I was, to have been able to experience this place this way at all.