[Having been back in Singapore for two weeks, I'd decided to squeeze in as many friends, and sights I've missed, in my itinerary. And I'll be journalling some of these places here. My bulkier camera was left in Shanghai and photos were only snapped using my phone this trip. So, forgive the photos.]
Arab Street is pretty known to the younger locals, but still not the most talked about among travellers. Tourists often overlook this place altogether when they're short of time. When travellers do talk about it though, they often mention the majestic Sultan Mosque, or the little souvenirs they managed to buy from the little Persian lane stores, or an expensive unique dress from a boutique store run by homegrown designers. Those who stay at night, see a totally different face to this little area.
Arab Street is what locals mention as a general meeting point to the area – "Hey, let's meet up at Arab Street tonight". But the life of the entire area is actually far larger than that. A cluster of boutique stores, cafes, shisha cafes, restaurants and pubs spread out along various other lanes aside from the main Arab Street. In fact, majority of them line Haji Lane, and Baghdad Street instead.
As night comes, the shops close up, and the night shisha bars and cafes open up. Various times these shops remind me of the clusters of coffeeshops in Amsterdam (except the goods sold are obviously different). Youngsters, hipsters, white collar expats from offices nearby, a handful of curious tourists, groups of friends, start coming in throngs, filling up the little cosy spaces indoors, outdoors, upstairs and down – perhaps for the nice middle eastern food, but definitely more so for the shisha and drinks.
Various shops provide various different flavours of choice, ranging from floral flavours like rose, vanilla, the fruity flavours like grape, kiwi, strawberry, apple, to candy flavours like bubblegum and mint. At times, the servers may allow mixes at an extra price.
Whenever I'm looking for a place to bum around with friends, and not really looking for a loud bar to get drunk at, this place comes to mind. For a place which opens till the wee hours of the morning, it remains busy throughout. Near closing time, it's filled with a post-clubbing/post-pubbing crowd looking for a place to chill out before calling an end to the night.
In the day, the place quietens down drastically. Some of these shisha cafes open early by noon. But the daytime attractions to me are the street art you can observe in the daylight, funky little stores, and real cafes (the ones that serve caffeine) with good food. I can get lost in them on a quiet day with a book in hand. Arab Street is a pretty nice place to be at, all day round.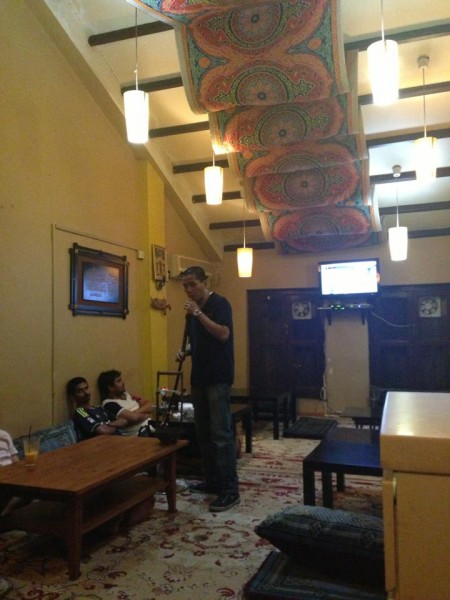 Revisit Arab Street – check.